Seabourn Encore Returns to Sailing in February 2022
We are pleased to announce that Seabourn Encore is returning to service, earlier than anticipated, on February 19, 2022 with an exciting series of new 10- and 11-day Canary Island itineraries sailing round-trip from Lisbon, Portugal. The ship, which was set to return on April 17, 2022, will become the third ship in our fleet to return to service.
Seabourn Encore will explore and celebrate the beauty and culture of the Spanish archipelago, as well as the charming island of Madeira, between February and April 2022. In addition, she will sail on a 15-day voyage along the coasts of the Mediterranean Sea from Lisbon to Piraeus (Athens), Greece, where her originally scheduled Eastern Mediterranean summer sailings will begin. Guests looking for a longer cruise to the Canary Islands and the Mediterranean can enjoy a 22- or 26-day Combination Cruise offering in March and April.
In addition, Seabourn and Belinda King Creative Productions are set to welcome Entertainment Partner Sir Tim Rice on board Seabourn Encore's first return to service voyage on February 19, 2022. Sir Tim Rice will appear live on stage to share his career highlights, tell captivating stories and perform alongside the Seabourn singers and dancers. In addition, Seabourn and Belinda King Creative Productions will premiere "The Kings", a brand-new contemporary male vocal group exclusive to the brand. The experience will be offered with limited engagements to showcase not only the best in modern musical theatre but powerhouse pop/rock vocals, taking guests on a unique musical journey for a truly memorable evening. Performances of "The Kings" are currently scheduled to run on the February 19 and March 1, 2022 voyages.
Located near the coast of Morocco in North Africa, the Canary Islands have been considered a bridge between four continents, and thus a critical navigation point. Each of the eight islands in the archipelago has a personality all its own, with nature as the main attraction and even the most developed areas remaining untouched and authentic. Destinations for Seabourn Encore include Santa Cruz de La Palma, Puerto de la Estaca, Santa Cruz de Tenerife, San Sebastian de la Gomera, Las Palmas and Arrecife, plus a call at Funchal, Portugal. Learn more about the Canary Islands here.
Sailing from Lisbon and the Atlantic coast of Portugal, Seabourn Encore will offer travelers a relaxing and rejuvenating voyage across the blue waters of the Mediterranean with visits to small ports that offer the best of their regions with shore excursions including opportunities to shop with Seabourn chefs for fresh ingredients at local markets. Destinations include Barcelona, Spain; Valletta, Malta; Syracusa and Crotone, Italy; and Kérkira (Corfu), Sámi, Thira (Santoríni), and Naousa on various islands off the coast of Greece.
We invite you to discover this tropical paradise for yourself in 2022 and enjoy special savings on these voyages.
Book these and other select October 2021 — November 2022 sailings now through November 30, 2021 and you may enjoy these limited‑time amenities:
Up to $1,000USD per suite Shipboard Credit — or up to $2,000USD per suite if they book a Penthouse or Premium Suite.*
With your shipboard credit, you may enhance your voyage by treating yourself to a relaxing time in the spa, upgrading your wine and spirits package, booking shore excursions, upgrading to our Stream Wi-Fi package or shopping in our onboard shops.
Plus, Seabourn Club Members will receive a 5% discount on all of these voyages. But, hurry — fares will increase on November 30, 2021!
Seabourn Encore's new, not-to-be-missed sailings include:

10-Day Canary
Islands Retreat
Round-trip Lisbon
February 19, 2022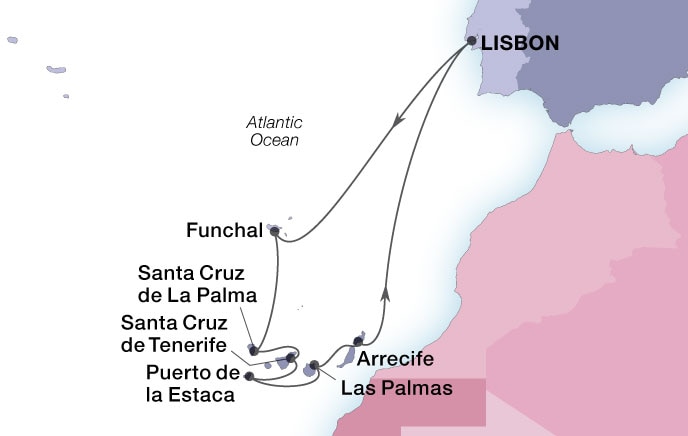 11-Day Canary
Islands Discovery
Round-trip Lisbon
March 1, 22, 2022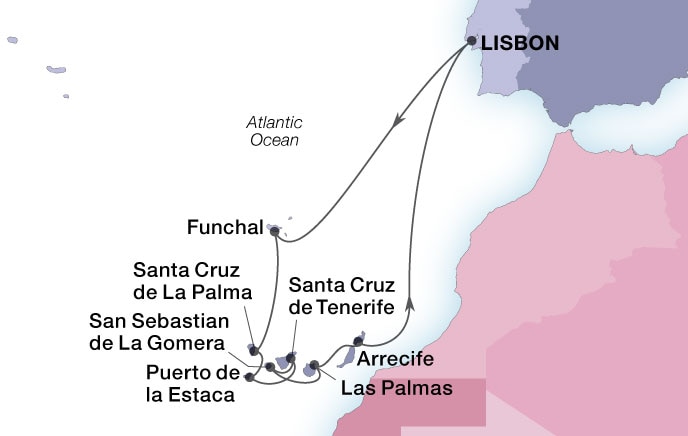 15-Day Mediterranean
Allure & Greek Isles
Lisbon to Piraeus (Athens)
April 2, 2022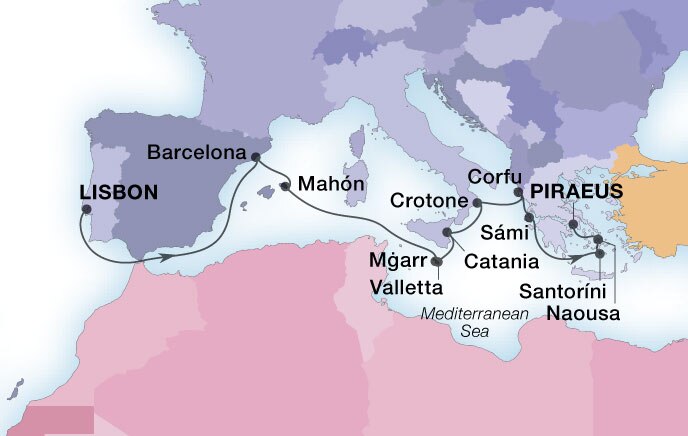 For a longer, more in-depth travel experience, we have two Combination Cruise options offering up to a 10% discount:

26-Day Canaries, Mediterranean
& Greek Isles
Lisbon to Piraeus (Athens)
March 22, 2022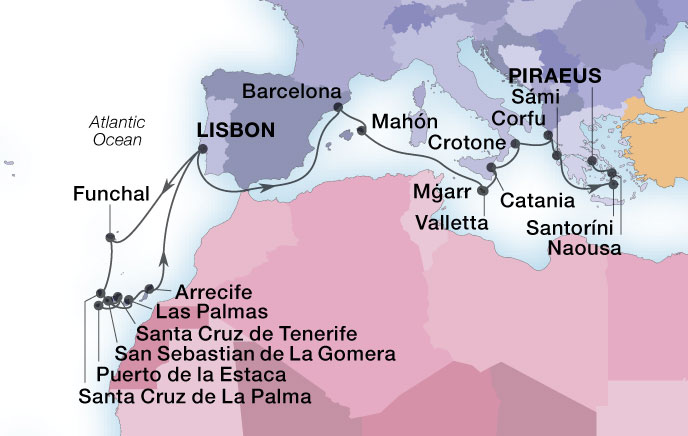 22-Day Mediterranean Allure,
Greek Isles & Ephesus
Lisbon to Istanbul
April 2, 2022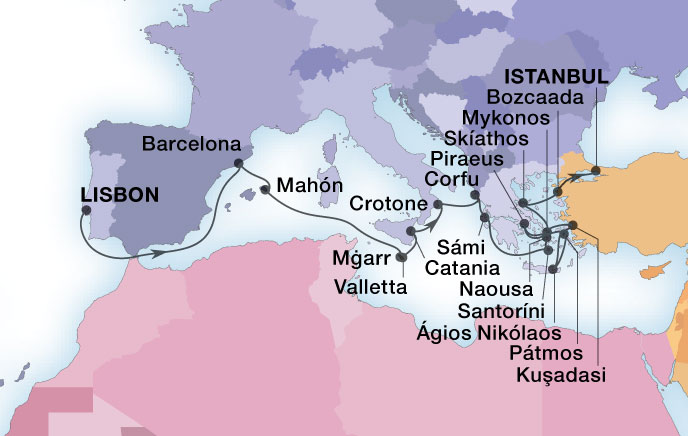 Seabourn's new Canary Island voyages will offer you an abundance of activities to engage and enjoy both on and off the ship. As the official cruise partner of UNESCO World Heritage, Seabourn Encore will offer a wealth of options for guests to discover remarkable sites of culture and natural wonder at select ports of call, with World Heritage Tours visiting World Heritage Sites, and Discovery Tours with exclusive and enhanced World Heritage shore excursions. For example, in the Canary Islands, join a North Island Discovery Tour at Santa Cruz de La Palma; discover The Beauty of El Hierro at Puerto de la Estaca; and take A Hike Through Garajonay National Park at San Sebastian de la Gomera, and more.
There will also be wide selections of shore excursions at ports of call throughout the voyages, creating opportunities for you to enjoy new experiences while discovering new places and cultures. All shore excursions are carefully curated, led by the best local agents, and feature a choice of activities of different durations, contents and types.
You also have the opportunity to take your travel experience further with one of our Seabourn Journeys. All Seabourn Journeys are superbly crafted and choreographed with stays in five-star hotels and most meals included, and offer guests make new memories amid sites of wonder. For guests sailing on one of Seabourn Encore's voyages embarking or debarking in Lisbon we offer:
Lisbon, Fatima & Porto (4-day pre- or post-voyage)
Guests will enjoy a visit to the religious site of Fatima with the Chapel of Apparitions and experience the sanctuary. Admire the monuments in the UNESCO World Heritage sites of the Historic Center of Porto, including Porto Cathedral, the City Hall, Aliados Avenue, Clerigos Tower, Sao Bento Train Station, Lello Bookshop, Bolsa Palace and much more. Wine tasting in the UNESCO World Heritage Site of the Douro Valley and Douro Wine region (Peso da Regua). Experience the blend of historical buildings and active student life at the UNESCO World Heritage Site of Coimbra University.
For more information about Seabourn Encore's return to sailing and new Canary Islands and Mediterranean sailings, please contact a travel advisor, call Seabourn at (800) 929-9391 or visit www.seabourn.com.
*Full terms and conditions are available on our website.